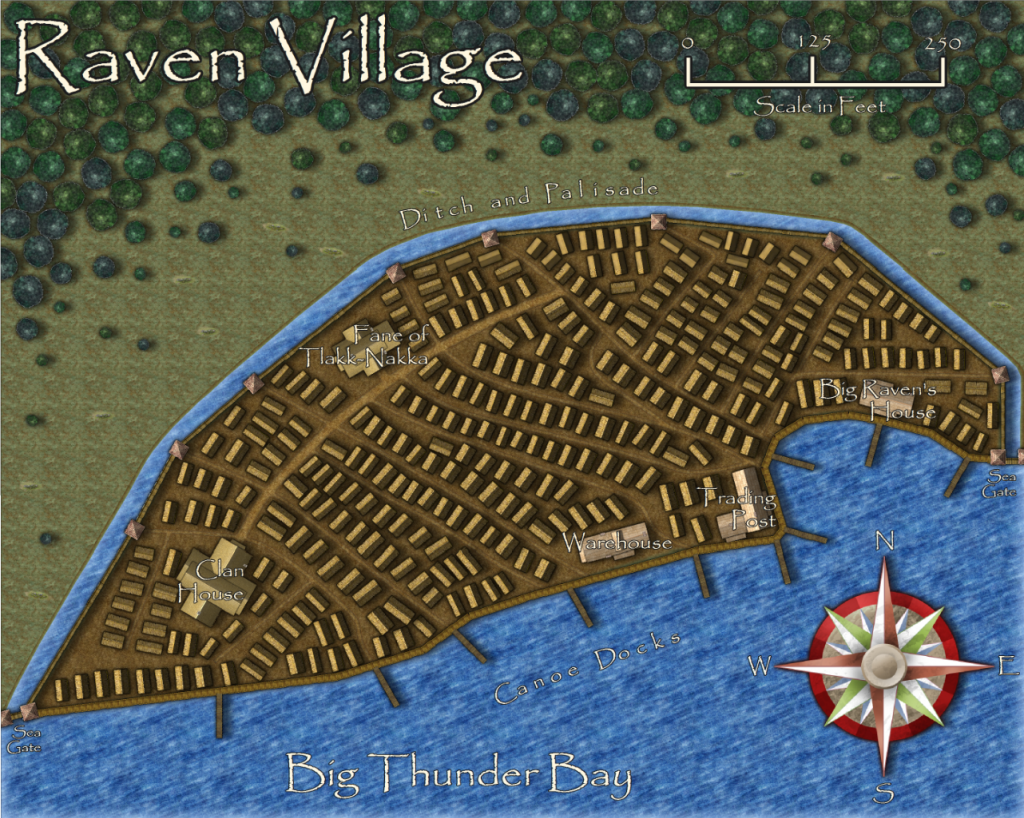 Excerpt from a letter written by Kol Dannos, a sea captain of Port Zangerios:

"As I mentioned before, the village is open on the seaward side, but protected on the landward side by a thirty-foot palisade and seawater-filled ditch.  Gates at either end of the ditch can be closed to prevent access to this moat from the sea, but this is rarely done; as a consequence, it is not uncommon to see the Picts fishing in the ditch from atop the palisade.  The towering trees and giant ferns prevalent throughout the Boreal Coast can be seen at no great distance from the wall, and they seem to creep nearer each year despite cutting and burning by the Picts.  Any horror emerging from the trees is met with a hail of poisoned arrows from the wall and guard towers... if Rel is good, it will be of a kind that is vulnerable to such weapons...

"The Picts themselves dwell in a maze of squalid cabins, from which mad laughter, the reek of cooking fish, and the bestial sounds of the Picts loudly breeding their dual offspring are wont to emerge at all hours.  They pour forth from their hovels on the night of each double full moon to spill blood in the fane of the Spider Goddess... the twin moons are of especial significance to the Picts of the Boreal Coast, for reasons too obvious to mention... Victims of their religious zeal are most often other Picts taken in raids, though all are welcome to die on their altars.  Though Tlakk-Nakka is their chief idol, attention is lavished as well on their clan fetish, the raven.  Totem poles topped with the leering visage of this devious beast are seen everywhere...

"Much has been made of the savagery of the Boreal Coast Picts, and it is true they are among the most wretched folk in Hyperborea.  Yet few observers have noted the most maddening thing about them: their duality.  Twins are everywhere, in an unnatural and sickening profusion: dirty twin children racing through the mud with fiendish laughter, saucy twin wenches fetching water in loincloths or less, shouting twin fishermen returning from their canoes laden with their catch, smirking twin bravos stroking their knives and eyeing the outsider with speculative contempt.  For one who hails from a more normal land of predominantly single births, this doubling of humanity is nigh madness-inducing...

"I know little of Gaius Gooch, denominated 'the Big Raven' by his savage folk.  Seen from a distance, he appeared as a dignified man of middle age - to the extent that any of these brutes can be said to possess any dignity... I know not what activates his unusual willingness to trade with outsiders, but it can in no wise be for the benefit of any other race of man but the Picts... or rather, it can only benefit the Raven clan, for the Pictish clans hate each other as fiercely as they despise outsiders... Oddly, the Big Raven seems to have no twin, nor has anyone ever mentioned such... his twin may have fallen in battle, perhaps, or been taken by disease...

"All in all, these folk are near unto the most brutal in Hyperborea.  Worse alone, in my experience, are their cousins, the Picts who dwell across the sea in New Pictland.  Those red-haired beasts are veritable fiends incarnate.  If I never make landfall in Fidib again, it will be too soon..."