Reposting some comments after running the adventure at Gary Con VIII (March 2-6)

SPOILER ALERT

- Weds night pick-up game with Handy's crew: played from 10PM-2AM after a lot of drinking - what a blast! These maniacs are a riot. OF COURSE they went the ONE way I didn't really expect anyone to go, a talent from what I hear, heheh. Miraculously, I think this was the only party not to suffer any deaths! Still cannot believe it! Haha! Plus, they even managed to find a very significant item.

- Thurs noon game with Guy, Josh, gizmo, Alice T and Chris T - the most effective group, with a berzerker, scout, shaman, necromancer and cleric who used a good amount of stealth, spells and planning to defeat a giant mutated crab in the caves and score the biggest treasure haul of my four games. A late session decision to switch gears, go to the cliff top and break down a heavily barricaded door (because why not) got gizmo and Chris T disintegrated, but that just left more treasure for the rest, who then ran away, heheh. Maybe that was the survivors' plan???

- Friday night game with capitalbill, Kevin, Nik, Kenny, ligedog, WSmith and Del: we'll call these guys the wrecking crew, comprised of five fighting-men, a scout and a pyromancer. As they hammered their way through the cliffs, the pyromancer incinerated some undead and some otherworldly beings and the group's fighters took down several laser-wielding crab-men. Along the way, the berzerker's head was lasered off, the death lord was disintegrated, and capitalbill acquired the group's only treasure - a crab claw holding a laser. Yeah, that kind of game!

- Saturday afternoon game with JoeMac, Dave, EOTB, Winn and Rachel: this crew of a thief, scout, ranger, berzerker and shaman took some heavy hits early on the cliff top, almost succumbing to a black crystal goat guardian that breathed swarms of hungry flies and then, after noisily breaking down a heavily barricaded door, losing the shaman and berzerker to disintegration. The remaining three actually made it pretty far inside the complex (the only ones to do so), aided by stealth and a few laser pistols they recovered, before finally being overwhelmed. TPK!

Didn't get pics of every game, sadly, but got a couple:

- Thursday night game for Handy's crew after we got back from Popeye's. Yes, that's a big puddle of beer on the table. It's a miracle anyone lived!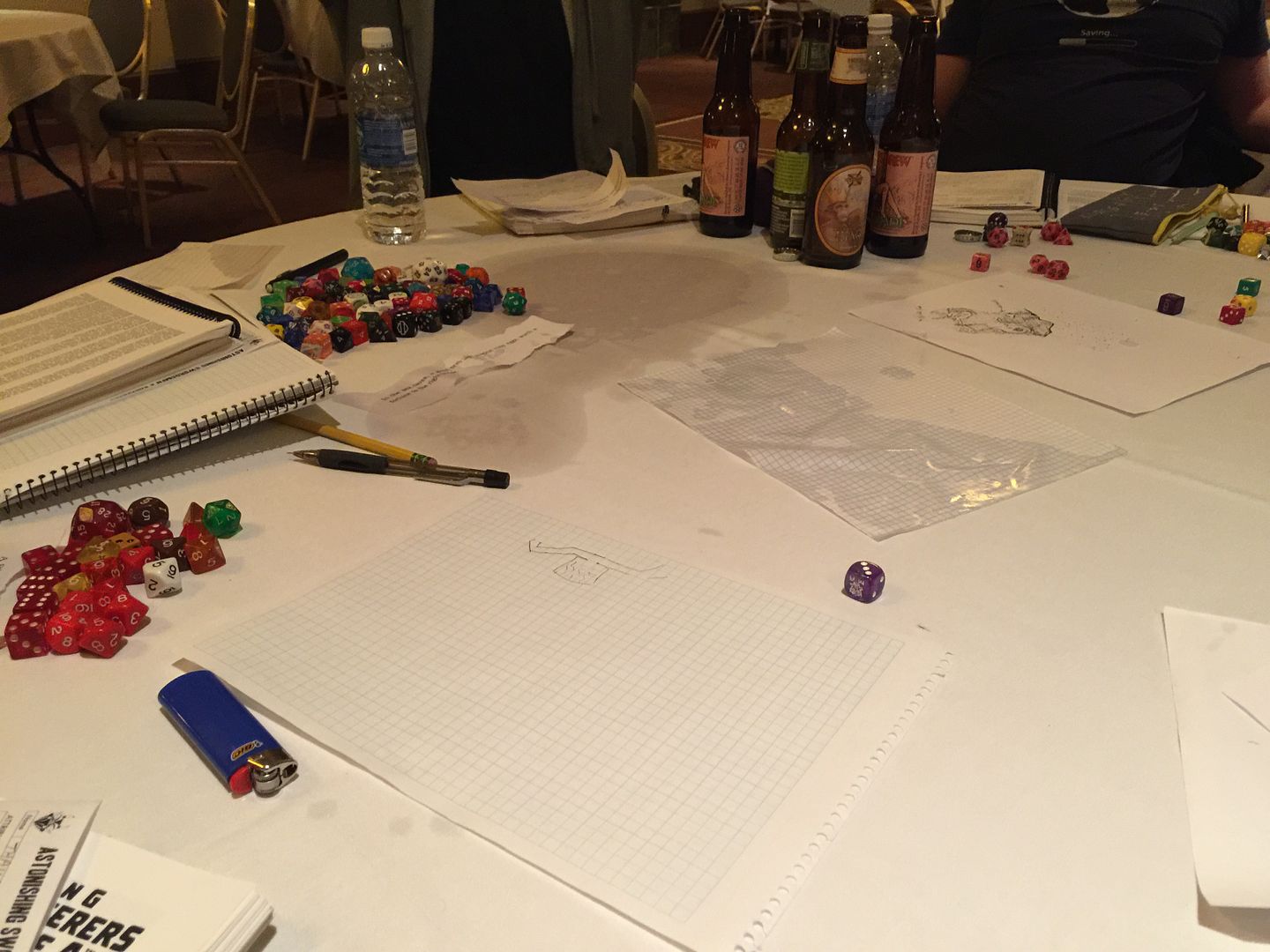 - Friday afternoon game (from left, gizmomathboy, Guy Fullerton, Josh, Chris and his wife Alice)